perfect adhesive binding
Perfect
Glue
binding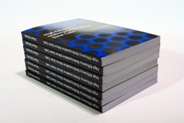 This
professional
hotmelt
adhesive binding in
paperback style
is
suitable
for
a
sheet
thicknesses between 25 and
480 sheets
(90
gr.
material) and the final formats
max. DIN
A4 portrait format and min. DIN A6 portrait format
.
By
milling
and
slitting
the back of the book, i.e.a
,
surface
extension
, we achieve excellent binding strength and excellent impact behaviour in conjunction with the specially developed Hotmelt Planamelt Pro This perfect bonding is in no way inferior to a cold glue or PUR bonding and is also free of hazardous substances
.
Attractive
cover
materials
are available.
These
can be
printed individually
,
including
the printing of the spine
for
a
book thickness
from
35
sheets
.
While the
order is
processing
the envelopes
are
4
times
grooved
,
in order of a better opening of the book
and
optimized
side gluing
.
Unsuitable
,
foreign
binding material,
such as coated
papers
or papers
with bi-
wave
fiber
direction
, we can
only work under reservation
.
adhesive

bond

with slip-fold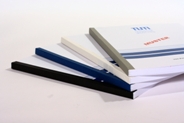 This bond

is

in its realization

and

bond strength

identical to

our

perfect

adhesive binding.

Cover

and back cover

therefore exist

separately

and

the open

spine

is

covered with

slip fold

.

A wide variety of

printed

or

unprinted

cardboard

or

transparencies can

be

used

as a cover

and back cover

.

A printed spine is

not possible.
Hardcover binding at printy Munich city
Our finest binding variant for theses, dissertations and individual presentations of all kinds.

Fast processing of your order, the day after next day, at printy in Munich Luisenstr.49 Rgb.

Optimum protection of your binding material in the insensitive, dirt-resistant leather-look cover with a pleasant feel.

Maximum durability due to clamping in a steel rail with a minimum of 25 to 160 sheets. This allows a maximum of 320 pages in two-sided printing on 90gr.Paper and A4 portrait format.

Individual printing of front cover and spine with high quality gold, silver or copper metallic colors possible.

On request, we can also print your front cover with the logo or seal of your university (see selection). By arrangement, you can also send us your special, printable pure black logo as jpg.
Download Hardcover .doc Template
Workflow
The order procedure for the printing of the binding material is described in detail under Thesis.
However, the production of a high-quality Hardcover requires, compared to the Softcover, a longer time frame of one working day.
The slightly structured, coherent cover material is available in the colors blue, burgundy, green and black.
Individual lettering are on the front cover in the format of max. 12cm font length x 5cm height possible in several centered lines. You can find an example template here : Hardcover Vorlage.doc
A one-line lettering with a maximum length of 15cm can be realized on the spine. Unfortunately, we have to reserve the right to realize the back printing on very narrow back bars.
Prices
Hardcover material is available in the colors blue, burgundy, green, black
to ca.120 scheets = 240 double sided printed pages on 90gr.Papier
10,-
to ca.160 scheets = 320 double sided printed pages on 90gr.Papier
11,-
additional costs for letters with silver, gold oder copper Metallic colours
first print
additional per copy
Frontpage
11,50
6,50
spine
10,00
5,00
prices per piece in EUR, incl. VAT

Status June 2023
what we do in Luisenstr.49 Munich :
• no instant copyshop print and scan • here we print and bind your thesis inclusive TUM labeled spine within 3 hours • PHD DIN A5 und publishing • Brochures and WireO binding • CD - print and burn service • Plots in latex and ink with highquality paper • Hardcoverbinding (need min.1 day) • laminate • Flyer • scripts • business cards • etc