About Printy
the Printy Story
printy is founded 1978 by the current managing director Andreas Wittek and his wife Barbara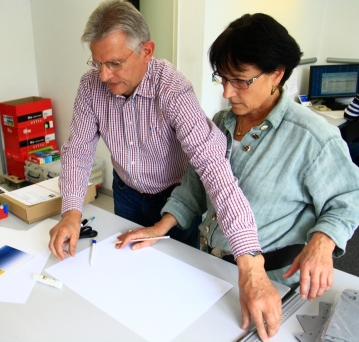 in Munich Maxvorstadt Theresienstr.71 as a retail enterprise .
1989 the family Wittek was, shortly after the Berlin wall crumbled, a founding member of a copy shop in the center of Leipzig, called printy Copy Service Inc. At the same time printy expanded Munich with a branch in the Enhuberstrasse.
These establishment relocated, after moving to the Faculty of Mechanical Engineering Garching, Boltzmannstr.15 in the TUM Research Centre.
19.03.2022 printy in the faculty ME closed because of corona and the retirement of the founders.
In Oktober 2012 printy expanded its business and moved from Theresienstr. to Luisenstr. 49

The
Munich-based
company
printy
A.
Wittek
GmbH
is
characterised
by
its
dedicated
and
motivated
employees
and
family
owners
.
Craftsmanship
perfection
,
reliability
and
adherence
to
deadlines
have
established
printy's
first-class
reputation
beyond
the
borders
of
Munich
.
what we do in Luisenstr.49 Munich :
• no instant copyshop print and scan • here we print and bind your thesis inclusive TUM labeled spine within 3 hours • PHD DIN A5 und publishing • Brochures and WireO binding • CD - print and burn service • Plots in latex and ink with highquality paper • Hardcoverbinding (need min.1 day) • laminate • Flyer • scripts • business cards • etc